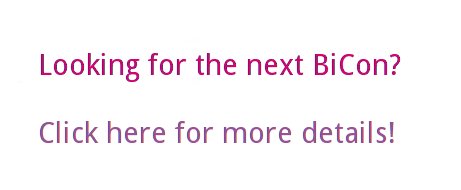 Coventry Aug 25 - 27 2001

Booking details
Updated Thu May 31 2001




Please send completed booking forms to:

BM BiCon, London, WC1N 3XX Cheques should be made payable to: BiCon If you have any special requirements, please get your booking form back to us as soon as possible, otherwise it may not be possible to make adequate provision for your needs.
Thanks.

Booking forms are available in:

Accommodation
From the official information provided to us by Cov uni.:


"Overnight accommodation is based on a single study room in a flat in
Singer Hall. Each flat has 6 single rooms, a bathroom, a shower and a
toilet and a kitchen. The kitchen only has the basic pots pans cutlery etc.
Sheets and duvets are provided, but not towels or tea towels. Parking is
available in Singer Hall."

---
- Main - Booking - Workshops - Market - Entertainments - Photos - Feedback -
BICON® is a registered trade mark of BiCon Continuity Ltd, and is used with permission.