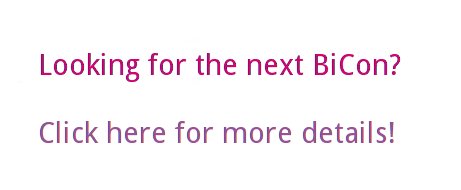 Coventry Aug 25 - 27 2001

Workshops
If you want to run a workshop, please let us know as soon as possible, even if you can't book just yet, so that we can start planning a time table.
If you'd like to run a workshop but aren't sure on what we need volounteers to run some of the traditional workshops such as:
Ice Breaker, introduction workshops
BiCon for beginners
Bi's on line
Monogamy/Polamory
Transgender
Coming Out
Activism
spirituality - paganism, tantra, religous closets
Drugs
Bi Youth
Sex Toys
BiCon 2001 workshops email address removed
Ta.
---
As always with BiCon there was in the end quite a difference between the initial workshop timetable and what actually happened. Still there was a wide range of workshops that seem to be well attended, and post-it notes saved the day.
---
- Main - Booking - Workshops - Market - Entertainments - Photos - Feedback -
BICON® is a registered trade mark of BiCon Continuity Ltd, and is used with permission.